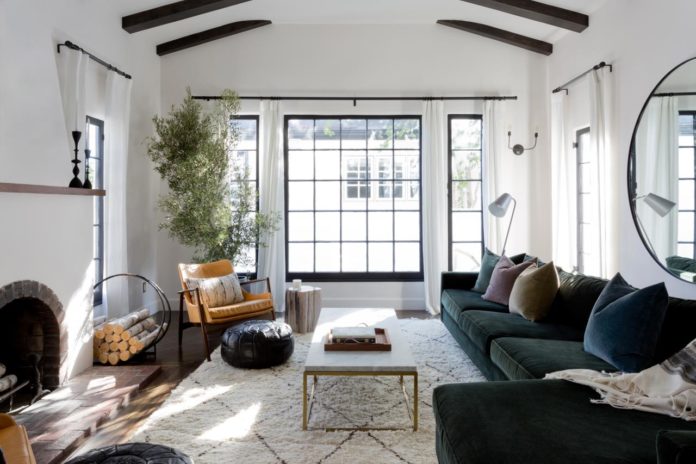 A contemporary design is a design that has an urban or modern appearance. 
The term "contemporary" refers to something happening in the present time. An interior designer using contemporary design incorporates a sense of modernity, clean lines, and space with the use of natural and neutral colors. 
Modern furnishings are usually used to create a more spacious feel for any room type.
The Hallmarks of Contemporary Design
There are many markers for a contemporary look; some of these include:
Use clean lines, sleek furniture, and neutral colors to invigorate your living space.

Incorporate modern furnishings for a more spacious feeling anywhere in your home (and less clutter).   

Use large windows or sliding doors to create large openings that bring light into your space.
Where Do You Get Started With This Trend?
Pick a room that you want to work in, and start your design journey.
A contemporary design is very open, and there is little clutter. 
For example, an area rug can be a topic of conversation when guests enter your home, and it is the focal point of where they stand or sit when you're hosting them.  
Choose a neutral color that works with the room's decor to accentuate the design of the room itself. Rugs come in all sizes and shapes, so you can choose one that incorporates well with what you already have in place already. 
Another option is to update a room on a specific theme. Taking a look at beautifulbathroom.net, you can see some great examples of contemporary bathroom designs in action.
Use Of Textures
Be careful not to overdo the textures and patterns in the space. 
The use of multiple textures and patterns can make a small room seem cluttered, so be mindful about how much you bring into the space. 
This is also true for any design; just keep in mind that more is not always better with this kind of design.
Kitchen Design Tips
For example, check out these gorgeous kitchen designs that follow a contemporary theme. 
To give your kitchen an updated look while incorporating the style, using white cupboards contrasted against dark wooden ones is typical but unique – creating beautiful visual contrast wherever you look when in the kitchen or dining area.
A few ideas to expand on for your contemporary kitchen include:
The chairs are modern and

ergonomic

and incorporate clean lines, right down to the round top of the table.

The table itself is rectangular, with a low profile. 

White marble on the tops of all other materials creates contrast and makes it look more modern than traditional marble. 
Contemporary Style Ideas for Your Living Room
The use of color and texture is an important aspect of most decorating trends as a way to make your room more interesting.
By mixing textiles and textures, you can create depth in your interior and create a space that is welcoming as well as flexible.
Now you know how to decorate in a contemporary style.