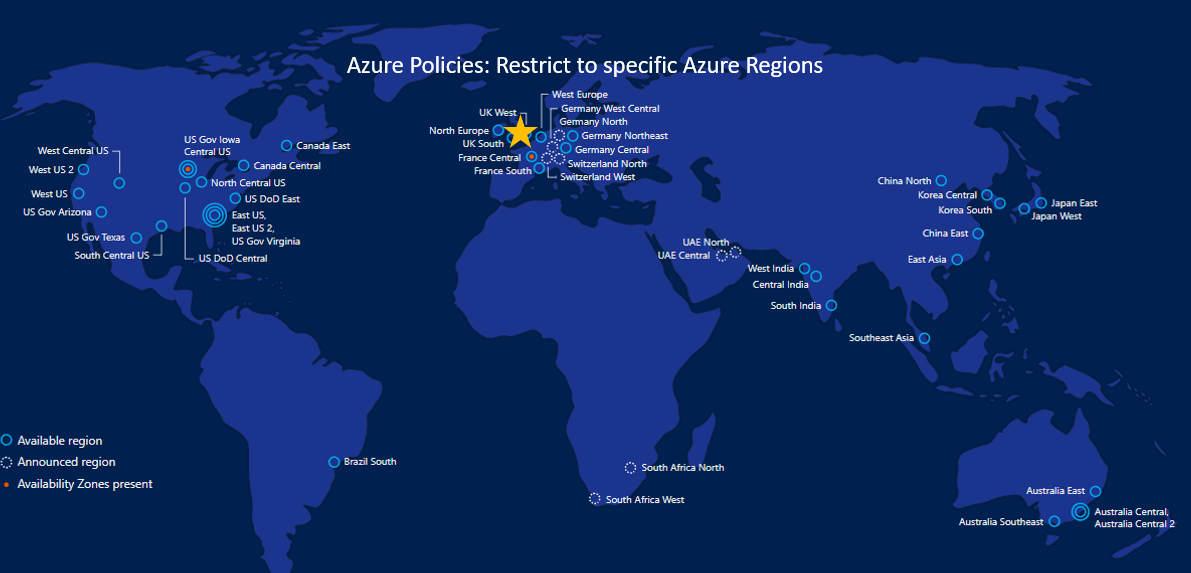 Introduction
The common struggle that Azure users undergo is managing their cloud estate. As the investment in the cloud grows this problem is compounded and they quickly find that the estate becomes so complex they lose sight of what it looks like and how it relates to their overall architecture. At this point, the customers come up with requests like,
We would prefer to view and govern all the resources under one roof.

It would be better to have a clear view of the cost spent on them.

How to avoid resource junk?
By understanding the customer needs, Serverless360 has come up with a new feature, Azure Resource Map.
Resource Map is a platform to visualize and govern Azure resources originating from different subscriptions at one place.
This blog covers all the top features of Resource Map that you should know about.
Cost visualization is made easy in Resource Maps
It is easy to keep track of the cost spent on an individual Azure Resource in the Azure portal, but the problem arises when the application was built using different Azure services and the user wants to visualize the cost at application level or environment  level like production, dev and staging. Unfortunately, it is not possible to achieve it through Azure portal. This problem can be solved with Resource Maps which has the capability to provide the cost spent on an entire application in the form of easily understandable charts.
It is also possible to view the cost spent on a specific resource, resource type or environment and can also obtain the cost spent for a specific time period by using filters like From and To.
Azure Resources across Multiple Subscriptions under one-roof
Managing Azure resources can be effortlessly done by using Resource Maps where it allows you to sync Azure Resources from different subscriptions at one place. These resources are brought into Resource Maps by associating service principal with Serverless360. 
There are two options to sync the resources to a Resource Map, it can be either made automatic by enabling Auto sync or can be done manually using Sync resources option and all the synced resources are segregated into various categories in different tabs like Unmapped Resources, Resources, Recently Synced, Ignored Resources and Rules. 
The picture below shows all the tabs and options available in the Resource Maps.      
Logical grouping of Azure resources in the form of Scopes.
Resource Map allows you to group Azure resources into logical scopes which is highly customizable by the users according to their business need. Scope can have multiple environments and resources underlying and all these resources can also be grouped to represent an organisational hierarchy. All the synced resources can be mapped to a scope by using Map Resources option and it is possible to map a resource to more than one scope.  
There will be a default parent scope under which any number of scopes can be created as per the requirement of the user and performing operations like moving or deleting on a parent scope will affect the scopes below it.  
There are various tabs like Summary, Environments, Resources, Resource Assignments, Rules and Cost available for scopes in the Resource Map where each tab will have a specified role to be performed.
Using summary tab, it is possible to get an overview of a scope in which different metrics are represented in numerical count or in the form of pie charts. 
Managing Multiple Environments of an Application.
In a real-time scenario, an application will have stages like development, testing, production and much more depending upon the user. In this case, there will be different versions of the same resource and the user might find it hard to identify which environment does a Particular resource belong to.
Consider dev/test/production scenario where there will be multiple similar resources. They are just the dev/test/production versions of each other. Azure Resource Map provides a way to indicate that the physical resources are different instances of the same logical resource.
Auto assigning the resources 
Rules play a major role in auto assigning the unmapped resources to the required scope, environment and logical resource. It is also possible to the assign resources manually but using Rules makes this whole mapping process simple to the user.
Rules can be easily created, edited, added, deleted and applied by making use of options available in the Rules tab.
Types of Rules
Resource Map level rules- This is used to assign unmapped resources in the scope to the required environment and logical resource.
Scope level rules- This is used to assign unmapped resources in the scope to the required environment and logical resource. 
It is also possible to add advanced rules if the user needs to create the Rules with Resource group name, Resource Type and Name of the resource along with Tag Name.
The below picture is an example of creating an advanced rule
Conclusion
As discussed above cost visualisation, managing resources under one roof, logical grouping of resources, managing multiple environments of an application and auto assigning rules are top features of Resources Maps and it indeed helps the Azure cloud users to get most out of their investment. 
If you are facing such problems in your organisation or would like to stay out of these operational challenges, I would highly recommend checking out Serverless360 and make use of the 15 days free trial to evaluate it for your pre-production and production environments.